HousePanel V2 (HP V2) is a user-hosted (typically local) highly customizable open source web application dashboard for accessing and controlling a SmartThings, Hubitat, or ISY995 equipped smart home from a Tablet, Computer, or even Smart Phone. The "V2" in HP V2 refers to the fact that this is the second major release of HousePanel, rewritten in Node.js for easy install and optimized performance. If you were a user of the original HousePanel, much of the original goodness remains plus much much more, so keep reading.
The main page of HousePanel once installed and configured will look something like this: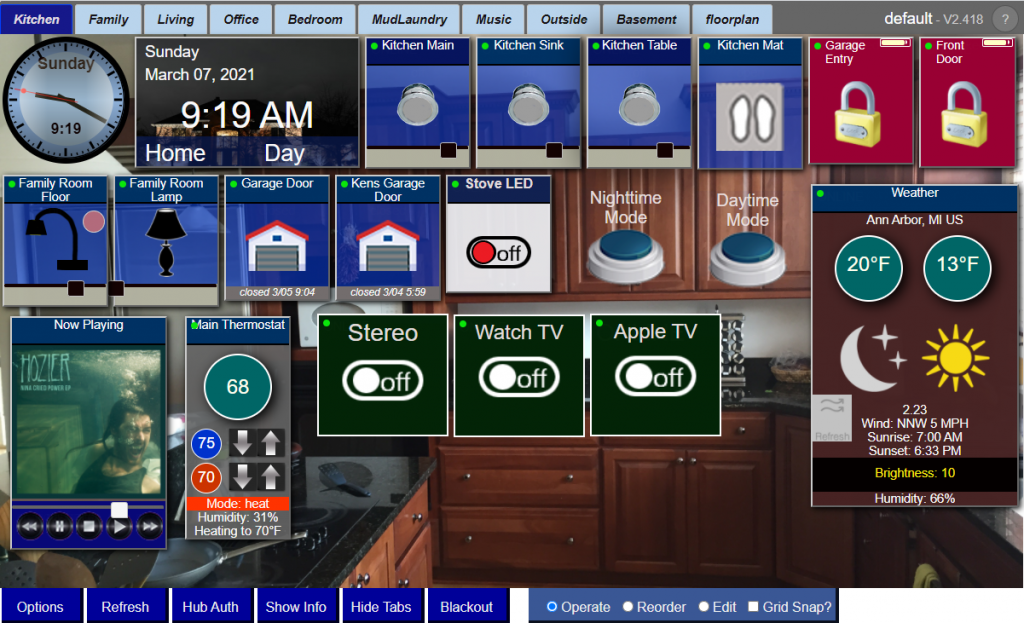 HousePanel is designed to give the user full control over the look and feel of their panel controller. Unlike the original HousePanel, HP V2 is relatively easy to install and configure. Once set up, making adjustments is relatively simple. Most customizations can be done from within the built-in web-based user interface, which includes a full featured tile editor and a tile customizer for modifying the way the main page and any tile on the pages look. Power users can also make major modifications by creating custom skins or editing the provided skin's CSS file using industry standard protocols.
HousePanel supports multiple user configurations. Any number of users can be defined with their own username and optional password. Each user's setup can be customized individually to meet their needs. When a user logs in, only their configuration will be shown on that tablet. All users on the same home network need only have a single HP server install.
HP runs on a customer-provided server and does not expose your personal data nor any details about your environment to the developer or any other party. You are in total control. The default "skin-housepanel" skin is designed to not look and feel "geeky", with large colorful tiles placed on beautiful full color backgrounds. There is also a "skin-modern" modern skin that makes HousePanel look very similar to other popular dashboards. Finally, the user can create any number of custom skins to make HousePanel look however they desire.
HP V2 automatically keeps the status of things to your dashboard in sync real time with your smart home as things change due to user control outside of the panel. Unlike prior versions, this feature now is built in and does not require any additionally installed modules.
An advanced feature of HP is that it can be used as a text-based web service to return json strings of status about your home to any other web application. This advanced feature is mostly for developers and can be safely ignored by most people, but if you are a developer then you should read the section of this documentation on Advanced Applications of HP.
Features
HousePanel can display and/or control most types of things in a smart home, including:
switch
switchlevel (dimmer)
bulb
momentary
button
contact
door
lock
presence
thermostat
temperature
illuminance
motion
water
valve (sprinklers)
smoke
power
other (generic sensors)
actuator (generic actuators)
The following special tiles are also supported:
Smart Home Monitor (SmartThings only)
Hubitat Safety Monitor (Hubitat only)
blank
clock (digital and analog)
image
video (for existing .mp4 files only)
mode
routine (SmartThings only)
weather (SmartThings only)
AccuWeather (SmartThings only)
frame (great for videos, photos, or weather)
WebCoRE pistons (SmartThings only)

custom
Smart Home Monitor and Hubitat Safety Monitor tiles display the status of these home security tiles.
Blanks are generic spacers that by default have no content and have all styling set to make the tile invisible. However, blanks are good options for also using to enhance with mix-in fields using the Tile Customizer described later.
There are two clock tiles – a digital clock tile, and an analog clock tile. Both tiles are updated every second to support displaying a second hand or the second digit for digital clocks. This can be disabled. The format of the clock tile can also be completely changed using the Tile Customizer as explained later.
Images can be any still or dynamically updated graphic file. The name of the tile is used as the base name of the image file and the disk on the server is searched for a file matching that name. If found, the contents of that file will be displayed on the tile using an img tag. The size of the image can be adjusted using the "width" and "height" custom parameters that can be adjusted in the Tile Customizer.
Weather and Accuweather tiles are available for SmartThings hubs. These tiles are fomatted using special rules to make them look nice; however, their look can also be modified using the Tile Editor just like any other tile.